---
In IMPACT, we challenge researchers to consider (and articulate) why their work matters in such a way that anyone (with a scientific background) can understand. By articulating their research story, it helps to focus the research concepts; by focusing on the concepts, it is easier to articulate the story.
The IMPACT fellows – PhD students and postdocs from all around the Boston area from all areas of health research, and the IMPACT faculty – a diverse group from academia, medicine, and business – meet about 10 times over the course of a semester.
In large and small groups, the fellows present their work, and the group helps them think through the paths that could lead their work to impact.
IMPACT fellows also meet (on their own, with program guidance) with 'stakeholders' – people who might use the results of their work –  who help the fellows refine how they view their work, its potential impact, and what it might take to get there.
The fellows also are paired with 'professional development advisors' – mentors to help them think through career paths.
Through this process, the IMPACT fellows gain a better understanding of their projects and goals – as well as a better ability to communicate those to diverse audiences.
Fellows who have gone through the IMPACT program say that they've gained a clearer view of their research and its path to impact, an improved ability to explain their work to diverse audiences verbally and in written proposals and manuscripts, comfort with approaching stakeholders about their work, a better understanding of career paths, and a large and supportive network of professionals.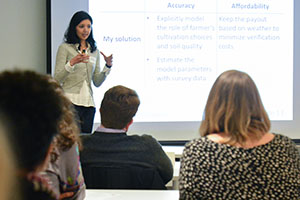 IMPACT Fellows refine the way they explain their work to a diverse scientific audience.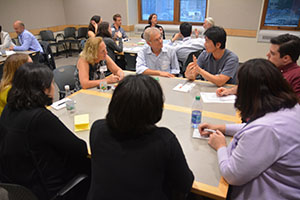 Fellows work in small groups to get and give feedback.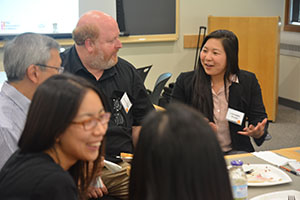 Fellows are matched with mentors to help them explore potential career paths.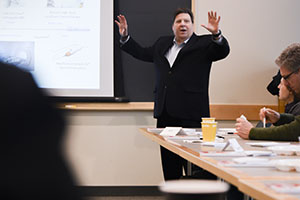 Experts from academia and corporate practice share experiences and techniques. 
Program goals
Advance trainees' abilities to shape and create career opportunities, and to become the stewards of (take ownership of) their careers:
Challenge them to explore and defend the real-world impact of their research
Develop capacity to talk about their work and themselves to diverse audiences
Increase their appreciation for different career paths, and for the mechanisms through which research progresses from the lab to real-world impact
Help them build, support, and use diverse professional networks
Craft pro-active strategies for their personal career development
Program elements
IMPACT Intensive
The IMPACT Intensive is the cornerstone of the program that addresses each of the goals through a dual intertwined focus on their research and career plans. By working together through longitudinal, highly interactive sessions, trainees develop meaningful, often lasting, relationships with professionally-diverse mentors. Sessions come in bursts, weekly sessions, generally separated by a gap of several weeks.
Focus
Block 1
(4 sessions)
Block 2
(3 sessions)
Block 3
(2 sessions)
Block 4
(2 sessions)
Research path
Analyze
Investigate
Validate
Launch
Exploring and defending the real-world impact of your research
Identify gaps in ability to articulate the impact of your research
Test the assumptions directly with diverse stakeholders
Outline definitive evidence or study that would demonstrate the impact
Present research impact case to diverse audiences
Career path
Prepare
Imagine
Create
Launch
Exploring and developing your personal career plan
Craft an initial Independent Development Plan (IDP)
Meet with professional development advisors
Learn to build, maintain, and benefit from a diverse network
Develop opportunities and methods to execute IDP
One-to-one advising–personalized mentoring
One-to-one advising will be provided to support trainees in their exploration of potential career paths.
Professional Development Advisor: Each trainee will be assigned to at least one professional development advisor selected based on the career interests of the trainee. The advisor and trainee will meet every few months according to a mutually-determined schedule.
Self-selected mentors: As part of their career development, all trainees will be encouraged to take the initiative to reach out for advice from those in their growing network.